We are pleased to announce we have a Governor led Preschool called "Little Owls", as part of our Early Years Unit on the Carlton and Faceby School Site. We welcome children from 3 years onwards.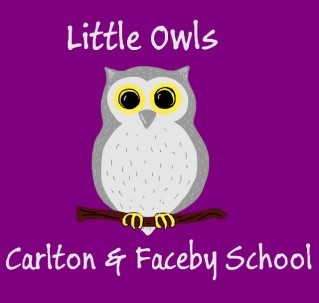 Welcome
The staff would like to take this opportunity to welcome you and your family to our Confederated Schools – Carlton & Faceby Church of England Voluntary Aided and Bilsdale Midcable Chop Gate Church of England Voluntary Controlled Primary Schools.
Based at Carlton & Faceby, "Little Owls" Preschool is publicly funded. Children are entitled to 15 hours Government funding per week, which can be at up to two settings. Some families are entitled to 30 hours free childcare – information regarding this can be found at www.gov.uk.
Additional hours of childcare over and above the free hours are available but will be chargeable at £4 per hour.
The Government funding for your child's free entitlement is paid directly to the setting. In order for this to be paid your child must be registered with their childcare setting on the 'headcount day' each term.
Further details and an application form are available on request.
The Early Years Unit children have access to 2 classrooms, the dining hall, cloakroom and toilets. There is also an outside area attached to the nursery for free-flow play. We have an outdoor classroom with access to the school playground and field with a "forest school" area.
There are established links between the nursery and our confederated schools, ensuring a smooth and natural transition into our schools.
At Little Owls Preschool we:
• Value each child individually
• Work in partnership with parents to offer the best possible experiences for each child
• Encourage children to value themselves and respect each other
• Offer a stimulating learning environment
• Love creativity
• Have lots of fun!
The Staff
Mrs Howe is our highly qualified pre-school manager who is assisted by Clare Pearey, who has many years experience in Early Years settings.
All our staff are extremely experienced in Early Years education. Their deep understanding of young children and passion for making learning stimulating and exciting makes the classroom a wonderful learning environment.
Preschool Sessions
9.00am – 12.00 noon Monday to Friday morning sessions
12.00 – 1.00pm Lunch Club which will cost £2.71 for 2-course lunch
1.00pm – 3.00pm Tuesday to Thursday afternoon sessions
All sessions are only available during school term time and not on Training Days.
Parents
As parents you are your child's first and most important teacher. We hope we can work with you to provide what is best for your child at his/her stage of development.
Children learn best when their parents are interested and involved in their education. We aim to form a partnership with parents to promote their child's learning.
We recognise and value what each child brings to the Early Years Unit, acknowledging that education starts at birth.
We welcome parental visits to the setting and sharing children's learning. If you would like to help on a voluntary basis with such activities as playing games, reading stories, supporting ICT and creative learning then please let us know.
Addittonally, if you have a special skill or hobby you would like to share with us then please contact us. We also appreciate help on educational visits and outings.
Early Years Curriculum
The activities and opportunities we plan for your child build on existing abilities, experiences and interests.
The children will take part in structured play and learning experiences, which enable them to develop a wide range of skills and to co-operate with each other.
The principles which guide the work of Early Years practitioners are divided into 4 themes:
• A unique child
• Positive relationships
• Enabling environments
• Learning and development.
The Early Years Foundation Curriculum (EYFS) is organised into seven areas of learning. There are 3 prime areas:
• Personal, social and emotional development.
• Communication and Language
• Physical Development
and 4 specific areas:
• Mathematics
• Literacy
• Understanding the world
• Expressive arts and design
These areas of development provide a foundation for and lead into the early stages of the National Curriculum. More detailed information on the curriculum is available on request.
The activities and opportunities we plan for your child build on existing abilities, experiences and interests. The children will also take part in structured play and learning experiences which enable them to develop a wide range of skills and to cooperate with each other.
Forest Schools
As part of our Early Years Unit provision we are able to provide Forest School, a unique learning vehicle to utilise our local open spaces, particularly our wonderful school grounds, for interactive play, health, recreation and personal development.
Forest School aims to develop:
Self Awareness
Self Regulation
Intrinsic motivation
Empathy
Good social communication skills
Independence
A positive mental attitude, self-esteem and confidence
Our Forest School, aims to demonstrate success by visiting the same locality on a regular basis and, through play, have the opportunity to learn about the natural environment, how to handle risks and, most importantly, to use the children's own initiative to solve problems and co-operate with others. The Forest School programme runs throughout the year, going into the school grounds in all weathers (except for extreme conditions).
Assessment
Staff regularly assess and record children's achievements and progress. Parents are encouraged to be fully part of this assessment process and will be invited to come in and discuss their child's development. The assessments help in planning for the child's next stage of development and are passed on to the next teacher.
Observations and photographic evidence of children's learning is added to the child's 'Learning Journal'. Children, parents and staff can add to the journal which builds up a picture of learning taking place throughout the year. We use the "tapestry" online learning journal.
Healthy Schools
During the morning, children are given a drink and snack. Milk and water will be available; the food offered is varied from day to day, including food children have cooked or prepared themselves on occasions.
Children will also be encouraged to try new foods. Snack time is also used as an opportunity to promote appropriate table manners, serving others, taking turns, preparing and clearing up afterwards.
Parents may wish to provide food if a child is celebrating a birthday.
Please let us know if your child has any food allergies.
Special Needs
If you know or feel your child has any kind of special need, please discuss this with the teacher. This includes behaviour or learning difficulties, speech and language problems, medical and physical disabilities.
We liaise with and seek professional help from an Educational Psychologist, Senior Social Worker, Speech and Language Therapists, as well as a range of Medical experts, to provide the best support possible to both your child and yourself.
Clothing
Parents are asked to send children to Early Years Unit in named clothing, which is washable and easy to manage enabling children to use the toilet, dress and undress as independently as possible. Laces, belts and braces are best avoided. Sun hats or baseball caps are required in the summer months. Please ensure children have a coat each day as we access the outdoor area daily and provide children with named wellies to stay in school.
On the rare occasions that toilet accidents occur, they are dealt with quickly and discreetly to cause the minimum embarrassment to the child. A stock of spare clothes is kept in the school for this purpose. With the younger children it is preferable for them to have their own change of clothing.
Equal Opportunities
We operate an equal opportunities policy. We believe that each child is of equal value and is entitled to the widest possible range of opportunities, regardless of gender; race, colour, class, disability or religion and we actively discourage personal prejudice and stereotyping.
Illness
If your child is unwell, please keep him/her at home until fully fit. If your child is suffering from sickness or diarrhoea there must be a complete period of 48 hours after the last episode before the child is able to return to nursery in order to avoid infection. If your child is taken ill or has an accident, a qualified First Aider will be on hand and you will be notified if necessary. Please ensure we have at least one emergency contact number for your child and we are made aware of any medical needs.
Medicines
Please inform staff of chronic conditions, which may require medication e.g. asthma. Staff are not allowed to administer any medication to children unless it is both prescribed by a General Practitioner and written consent is given by parents on the form available from school.
Health & Safety
Parents are asked to deliver to and collect children from the Early Years Unit. Please let a member of staff know if you are unable to collect your child or if a friend or relative will be picking up your child. If for some reason you will be late please contact the school as soon as possible.
Parking is limited around the school site. We request that parents do not park on the school's staff car park or the access roads and verges to the front and side of school – we must maintain clear access for vehicles going to the Outdoor Centre. Also, please do not obstruct our neighbours to either side of the school.
By kind permission of Mr Burton short-stay parking is available at the Blackwell Ox.
We hope your child will have a happy, stimulating, exciting and challenging time in Little Owls at Carlton & Faceby School, within our safe, secure, caring and vibrant environment, where their individual needs are put first and foremost. Do not hesitate to contact us if you have any questions or concerns.